What happens when

cranberries

get depressed?
They turn into
blueberries

.
Get to know some of our Newest Employees!
My name is Terri Roberts and I am originally from Washington State. My husband James was transferred here to Ft. Bragg, so we have made Raeford our new home. Although we miss our family, we have been blessed with the very best neighbors and love this community. I am a certified yoga, pilates and personal fitness trainer, so I very much enjoy staying active as well as working in the yard. In my spare time I like to up cycle furniture and take something no one wants and turn it into someone else's treasure. I feel very lucky to be a part of the "Barbee Pharmacy Family"! I look forward to getting to know each and every one of you.
We can't talk about Thanksgiving without talking about food. So we polled the Barbee Pharmacy Staff to see what their favorite dish at Thanksgiving is!
Cindy: Green Bean Casserole
Terrie: Stuffing
Emily: Mom's Fruit Salad
Terri: Green Bean Casserole
Esther: Dressing and Gravy
Bertha: Stuffing and Gravy and Turkey
Jose: Turkey
Julianne: Sweet Potato Casserole/Deviled Eggs
Sprite: Pecan Pie
Connie: Cranberry Salad
Cragan: Green Bean Casserole
Sara: Hot Sausage Stuffing
Donna: Deviled Eggs
Debbie P: Dressing
Shirley: Sweet Potato Soufflé
Lydia: Broccoli and Cheese Casserole
Crystal: Dressing
Audra: Pumpkin Pie
Janelle: Sweet Potato Casserole
Kristen: Mashed Potatoes and Gravy
$5 Dollar Coupon!
Shop at Food Lion in Raeford and you might receive a $5 Off Coupon on the back of your receipt. Be sure to check your receipt because you can use the coupon on any merchandise in the store including prescriptions!
(See store for restrictions)
Here is this month's Favorite Recipe coming from our Monogramming Momma, Shirley.
Sweet Potato Soufflé

Mix the following ingredients together and pour into a long baking dish.

3 cups of cooked, drained mashed sweet potatoes (fresh or canned - 2 cans)
1 cup sugar
2 eggs, beaten
1/2 cup milk
2/3 sticks margarine
1 teaspoon vanilla

Cover with the following topping

1 cup chopped pecans
1 cup coconut
1 cup brown sugar
1/3 cup flour
1/3 cup melted margarine

Mix will be crumbly. Spread over soufflé and bake. Oven 375º for 25 minutes or until brown.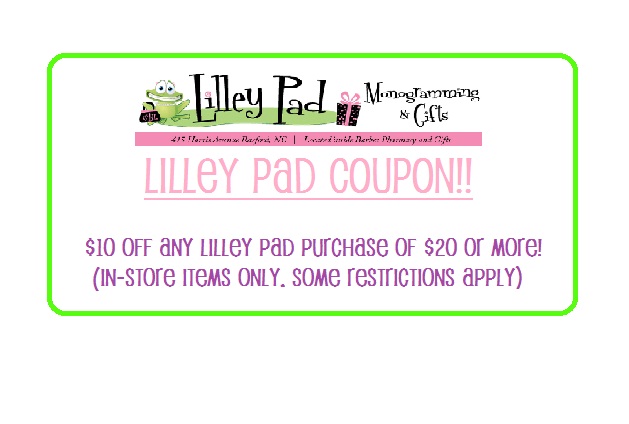 Apologies from the Pharmacy
We're sorry! We have been dealing with some glitches in the software responsible for prescription pick-up reminders. Some automated calls are going out to customers even after the prescription has been picked-up. We are working diligently on getting it fixed and are sorry for any inconvenience. Thank you for your patience.
"Like" us on Facebook!
Check out our Facebook pages! Barbee Pharmacy and LilleyPad are now actively on Facebook. LilleyPad has weekly giveaways on Fridays with drawings for prizes on Monday mornings. Feel free to comment, like and share on our pages. We look forward to seeing you there!!
Look what's new at the Pharmacy!
We are launching a new program in our pharmacy that will make the process of requesting and receiving prescriptions much easier.
It is called
My Pharmacy Connect.
It will allow you to order prescription refills online.
You can receive reminders when it's time to refill your prescriptions.
You will be able to choose text, phone, email or all of the above for alerts when your medication is ready for pick-up.
When tax time comes around, you will be able to print your prescription history reports right at home.
You will be able to see information about the medications you are taking.
And best of all, it is
FREE
to our customers.
See one of our Barbee Pharmacy staff members for information on how to sign up and also watch for a link on our website, www.barbeepharmacy.com, to sign up. We look forward to making your health more convenient for you.
Rewards Card
Ask one of the Barbee Girls about our new Customer Rewards Card.
Purchase any 5 QC products and receive your next one free. We will punch your card for every QC product purchased.